Back on schedule at last: InnoTrans 2022
An entire industry is looking forward to the start of the International Trade Fair for Transport Technology. After four years, InnoTrans will finally be held again in Berlin from September 20 to 23, 2022. We hope to welcome you personally at our booth in hall 26 at the usual place.
At InnoTrans 2022, Vossloh will be showcasing its new claim "enabling green mobility". At Vossloh, sustainability is not an advertising promise but an integral part of our identity. The entire Group is committed to climate protection and sustainable corporate governance. We have introduced a Group-wide sustainability management system for this purpose.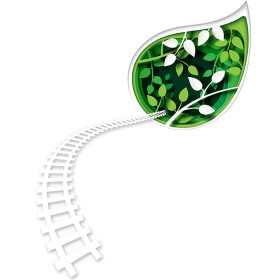 As a global leader in rail technology with a focus on rail infrastructure, Vossloh's vision is to make the world a better place. In this way, we are paving the way for reliable, safe and demand-driven mobility with zero emissions. We are implementing this vision by providing innovative products and services as well as tailored solutions for a durable and resilient rail infrastructure.
Products and solutions that help to optimize route availability will be presented at the trade show. Customers benefit from our expertise and detailed knowledge of rail infrastructure. Our comprehension of mobility combined with smart and digital concepts are changing the way we think and act today and in the future.
New key visual symbolizes the perfect symbiosis of mobility and environment
The appeal of the new claim is highlighted by our new key visual. The image composition accentuates the analogy between nature and technology and thus our self-image as a sustainable infrastructure provider. At the same time, our trade fair theme emphasizes digitalization as an essential attribute for current and future products and solutions from our company.
Finding tomorrow's solutions today
At regular intervals, we will inform you here which solutions and products we will be presenting exclusively at InnoTrans 2022. You are also welcome to use our Vossloh Topic Lounge where you will discover exciting content and details on a wide range of topics and products from the world of rail.
Discover the Vossloh product world